Table of Contents
Zerene Stacker -- The Basics
Zerene Stacker is "focus stacking" software designed specifically for challenging macro subjects and discerning photographers. Of course it works great with simpler subjects, close-ups, and landscapes also!
Here is a preview of our current flyer. You can download a high quality version as PDF.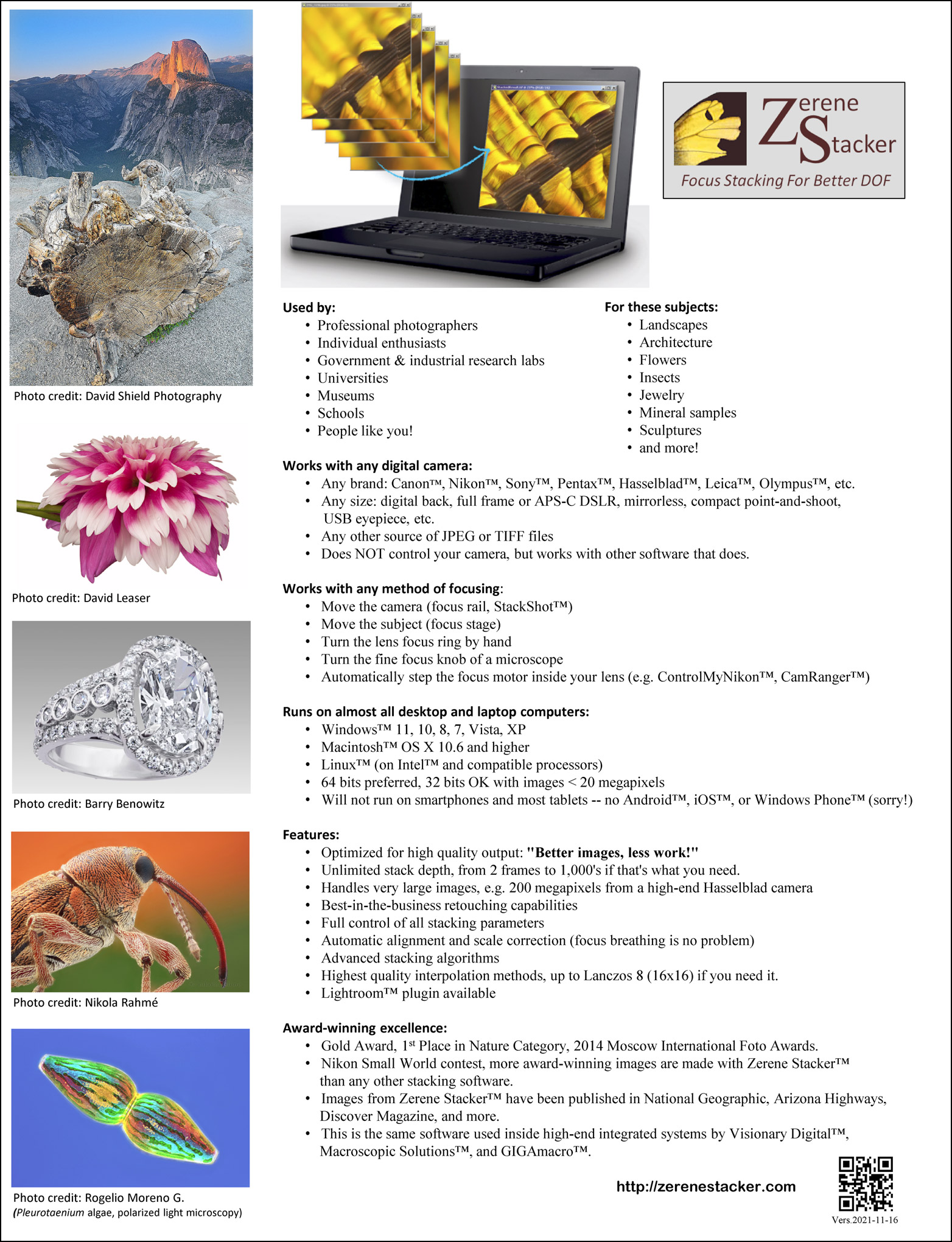 As a more detailed example, here's an illustration showing a common fruit fly.
This is photographed using a 10X macro setup, roughly the same as what you'd see through a 100X microscope.
Individual image on the left, stacked result on the right.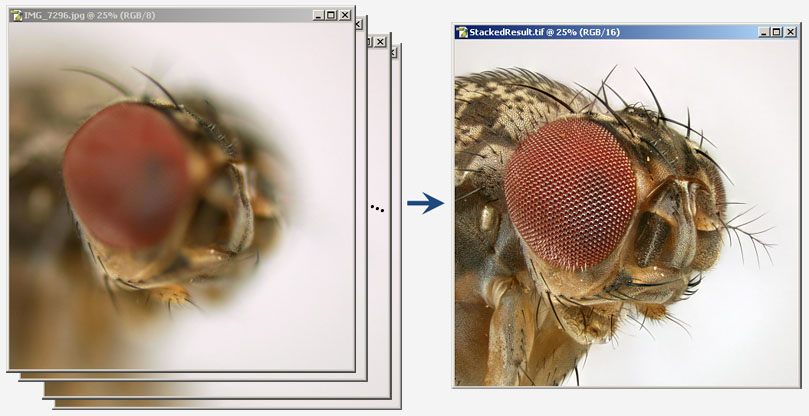 Why use it?
Zerene Stacker has several advantages over other commonly used stacking programs:
Highest quality output images, especially in difficult cases

Accurate and robust alignment and interpolation

Advanced stacking algorithms

Clean handling of hairs and bristles – no halos or contour lines

Preserves low contrast detail and avoids "stacking mush" with deep stacks

Fast and flexible retouching makes it easy to combine the best features of multiple algorithms as well as original frames

Retouching supported by all versions, even at the lowest price

Supports 8- and 16-bit input and output files

Can generate stereo and 3-D rocking animations from a single stack, even for difficult subjects with structural overlaps and bristles.

Fully utilizes modern multi-core processors and multi-processor computers

Runs on all major computer systems: Microsoft Windows®, Macintosh OS X®, Linux®.
Can I see some examples?
Absolutely! Please browse our Gallery of challenging high-magnification subjects.
How do I get it?
You download Zerene Stacker from the Downloads page of our website. The download gives you a 30-day free trial with full functionality. After that, you have to buy a license to keep using the product and to get future updates for free. Full details are posted at Purchasing Licenses.
What about "shareware" versions?
No, you really don't want those. Pirated versions of Zerene Stacker can be found these days on lots of "shareware" sites. But don't be fooled. Those sites are in the business of ripping us all off. Despite their assurances, the versions that they offer contain stolen keys, are NOT full functionality, are not eligible for future upgrades, and may even come equipped with malware added by the pirates for their own purposes. If you send them money, you lose it. The only versions of Zerene Stacker that we can stand behind are the ones you download from Zerene Systems' own web site, and licenses purchased through us and our authorized resellers.
What type of computer do I need?
Microsoft Windows®, Macintosh OS X®, or Linux®, and it doesn't make much difference which one you have. The code base is about 98% identical. We recommend using a computer with a modern multi-core processor (e.g. Intel® Core™ 2) and at least 2 GB of memory. The software will run correctly on older and smaller machines, but processing will take longer and you may be limited to something less than the full resolution of your camera.
For Windows and Linux, separate installers are available for 32-bit and 64-bit versions. For Macintosh, the same application bundle runs in all environments.
If you need Zerene Stacker in another environment, please contact us.
How big of a stack can it handle?
Zerene Stacker is designed for deep stacks. There is no intrinsic limit on stack depth. Many of our users routinely go over 100 images per stack; the biggest ones we know about are over 1000.
Zerene Stacker can handle any modern camera we know of. Some of our users regularly process 200 megapixels per frame, from high-end Hasselblad cameras. For such large images you need a 64-bit computer and about 100 megabytes per megapixel. Most modern desktop and laptop computers can handle 36 megapixels. If you have only a 32-bit computer, there is a smaller limit for image size, typically around 20 megapixels per frame.
Are there other tools that I should think about getting too?
Absolutely!
First, take a good look at the CamRanger camera controller. This little device plugs into your camera and provides wireless connection to a smartphone, tablet, or laptop/desktop computer. It lets you live view and control focus without touching the camera at all. With most cameras, it even provides automatic focus stacking – just set limits and step size, push the Shoot Stack button, and watch the CamRanger and camera do all the work of shooting the stack.
If you're shooting small subjects, then take a look at the StackShot rail, a product of Cognisys Inc. It's a very slick piece of automation that makes shooting even deep stacks of small subjects quick and painless. Zerene Stacker Professional and Prosumer Editions now include a direct interface to the StackShot rail – see HERE for details.
For larger subjects, consider using software to automatically control the focus motor inside your lens. There are several good alternatives, depending on what type of camera and computer you have. See our Tutorials for more information about those.
If you're shooting landscapes and you have an iPhone or iPad, then consider getting a copy of the FocusStacker app, by georgedouvos.com. It's an interactive calculator that will give you optimum focus distances depending on your scene and lens settings.
Is there a user forum for Zerene Stacker?
There's no forum dedicated to Zerene Stacker. Instead, we recommend going to www.photomacrography.net, a strictly non-commercial web forum that covers all aspects of the photography of small things. Many of our users and the principal developer of Zerene Stacker are active participants there, and we prefer to keep our efforts concentrated in one place. Photomacrography.net has a well-earned reputation for in-depth technical information, combined with astounding images created by world-class photographers who are happy to discuss tips, techniques, and tools from all sources.
Need more information?